---
Feiyan Tea (Green Tea)
Feiyan Slimming Tea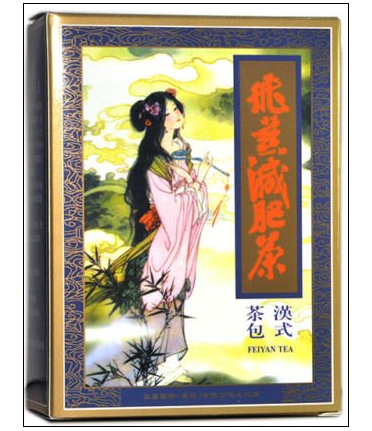 Feiyan Tea (Green Tea)
Feiyan Slimming Tea
In Stock
£6.99
Product description
Feiyan Tea (Green Tea)
Feiyan Slimming Tea
Feiyan Natural Herbal Slimming Tea is made with selected excellent natural and can be food herbs with modern technologies with careful investigate, the taste is delicate fragrance and pure.
Feiyan Natural Herbal Slimming Tea intended to suppress appetite, detoxify the body, get ride of extra fat and improve metabolism.
Feiyan Natural Herbal Slimming Tea has no chemical additives and it is safe for regular consumption over a long period of time without bringing any side effect.
Direction
Each time take one tea bag, twice a day.
Soaked in 170ml of hot boiled water for 5 to 10 minutes.
This can be done for twice in a row, it is better to drink in the morning and before sleeping.
Not with sugar and milk.
Main Ingredients
Green Tea.
Caution
Not suitable for Pregnant woman.
Keep out of reach of children.
Storage
Store in a dry, ventilating place with normal temperature.
Specification
120g (3g X 20 bags X 2 boxes)
In Stock

£6.99
Customer reviews
Feiyan Green Tea works well , my body very light, i would recommend this product to my friends. Thanks.
- Verified Customer
---
I know that these tea bag work well and help get slim. I have been having this feiyan tea for a week, im not hungry like i was .I have loads of energy which im thankful for as a mother of three! and i dont feel bloated or constipated i highly recomend this its fantastic!!
- Verified Customer
---
it's the best i ever drink!!!! i feel great. i was drinking every evening and every morning,and it's just great. i can feel my stomac is so light. Thanx.
- Verified Customer
---
Used with a calorie controlled diet - this tea works wonders - I've lost 2stone in 11 weeks, just by having one tea in the evening & one in the morning and following with 3 meals a day calorie controlled.
- Verified Customer
---
This tea has definately helped me in reducing some weight but the process for me was very slow. So now i am planning to try the 999 slimming tea and see if this gives me my desired effect faster.
- Verified Customer
---
Great start to the day- does give a bit of upset tum when you first drink but your tum does settle down quickly and the tea does help with wieght loss.
- Verified Customer
---
I have been taking Feiyan Slimming Tea for about 3 weeks i have lost about half a stone but i also feel alot better in myself i have lost the feeling of bloatedness and seem to have a lot more energy.
- Verified Customer
---

I have had this before really and truely l did lost weight. Am back on it again very good does the business especially when boiled for 10mins.
- Verified Customer
---
This tea relly works. I tried many different teas, but this one is the best one so far.
- Verified Customer
---
Submit a Review